Deep Seawater Utilization Reaseach Facilities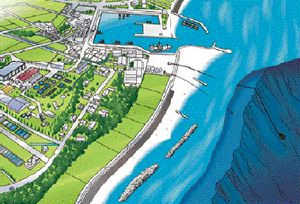 In Toyama Prefecture, we have been aware of the value of deep seawater and have been looking into a multitude of usage possibilities for some time. As practical application of deep seawater in the fishery industry increased in popularity. From 1992 to 1994 Toyama Prefecture and Marine Forum 21, Inc. combined their efforts to invest 1.056 billion yen into the construction of a deep seawater utilization research facility inside the Prefectural Fisheries Research Institute. As a result of the completion of this facility, research of the ecology and habitat of deep sea/cold water organisms has been made possible. As well as, experimentation of mature fish cultivation and seed production utilizing the attributes of deep seawater, surface water and ground water.
The facility consists of deep seawater intake pipe, pump room, water storage tank, equipment wing, cherry salmon hatchery, low-temperature breeding wing, reusable water storage tank, etc. Additionally, the facilities are equipped with five important systems (as listed below).
A system that provides water at temperatures prime to each organism (deep seawater at 5 surface water at 8-30 and ground water at 18℃) using a temperature regulator.
A system that cools deep seawater to 0.5℃.
A system which recycles used deep seawater for use in cultivation tanks.
A monitoring system for the water used in cultivation.
A flow-through pressurization water tank.
Deep Seawater Pumping Facilities
Capacity
125m3/h(3,000m3/day)
Temperature of
pumped water
Upon entering pipe: 1℃-2℃
In water storage tank: ≤5℃
Location of water
to be pumped
Depth: 321m (5m above sea floor)
Distance offshore: 2,600m
Piping
Undersea: Steel lined high-density polyethylene pipe
  Diameter: 250mm, length: 2,630m
Land: Hard polyvinyl chloride pipe
  Diameter: 200mm, length: 433m
Pump room
Construction: Underground reinforced concrete
Area: Approximately 30 m²
Pump: Single suction volute pump (FRP) x 2
  Dimensions: 2.1 m³/m x 28m x 22kW
Water storage tank
Construction: Square tank made of FRP
  Dimensions: 20 m³
*FRP (Fiberglass reinforced plastic)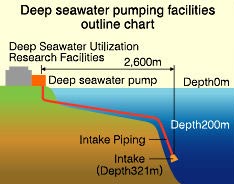 Deep Seawater Intake Piping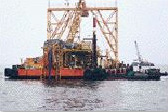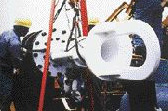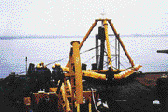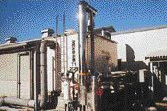 There are restrictions on when construction of floating piping can be conducted. As the piping was to be 2,630 m long and reach depths of more than 300 m, a jointless pipe constructed of steel lined high-density polyethylene was selected to be used. At the end of the pipe, a triangular spigot was attached and submerged to 321m.
Additionally, the prefecture's second deep seawater pumping facilities were established in Nyuzen, Toyama in 2001. This water, other than being used in the abalone, etc. cultivation facilities, is dispensed in large and small lots for use in non-fishery fields. In this case, three different types of deep seawater (raw water, desalinated deep seawater, and concentrated deep seawater) are provided as needed.
For more information please contact the Commerce, Industry, Fishery Division, Nyuzen Town Hall.
Furthermore, in 2004 a facility with the ability to dispense 7 different types of deep seawater (concentrated, highly concentrated, desalinated, mineral desalinated, raw, and unadulterated) was established in Namerikawa, Toyama. The unadulterated type is at the same condition that it was while in the ocean and is suitable for the research of deep seawater itself, and research and development of medical products, cosmetics, and other commercial goods.
For more information, please contact the Commerce, Industry, Fishery Section, Namerikawa City Hall.