Research on Deep Seawater
Research begins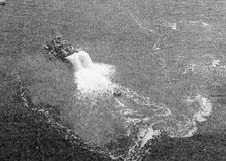 In the beginning, research on deep seawater in Toyama Prefecture was once part of the Research for the Development Effective Technology for the Use of Marine Deep Sea Resources, which was conducted by the Science and Technology Agency (currently the Ministry of Education, Culture, Sports, Science and Technology) from 1986 to 1991.
During this research, Toyama Bay was selected as the location for the establishment of a floating deep seawater effective usage system. The project gave birth to the world's first self-powered floating deep seawater usage device "Hoyo". An experiment to bring the inorganic nutrient rich deep seawater to the surface and thus fertilize the sea region was simultaneously conducted.
As a result of a survey conducted in 1990 on the potential usability of deep seawater and on-land pumping, Toyama Prefecture became confident that the extraction of deep seawater from areas ranging from central to east Toyama would be relatively simple and that there would be a great future in the development of technologies for the cultivation of cold and deep water marine organisms.
In 1991, the Survey to Create the Fisheries Industry Practical Application Research Facility Utilizing Japan Sea Proper Water Fundamental Plan was conducted. From the perspectives of the promotion of fishery industry experimental research and the securing of both surface seawater and ground water, the result of this survey determined that pumping of deep seawater at the Prefectural Fisheries Research Institute would be the most preferable.
All of this, and the current deep seawater utilization research facilities , was made possible through the joint support of Fisheries Agency and Marine Forum 21, Inc. from 1992-1994.
Movement into Non-Fishery Fields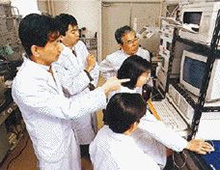 Use of deep seawater has penetrated into numerous fields ranging from foods to medicines and health products. Toyama Prefecture's experimental research institutes, in cooperation with national research institutes, universities, and private corporations are actively involved in the study of the practical application of deep seawater to non-fishery fields. 
In particular, Kosinostatin and Arisostatin, anticancer antibiotics have been discovered from microorganisms isolated from deep seawater samples. This discovery has launched research into deep seawater as a potential source for bioactive substances.
Research into the Use of Deep Seawater (non-fishery fields) in Toyama Prefecture
Topic of Research
Abstract
Related Research Institutes
Constituents
and attributes
of deep seawater
Research into the attributes of deep seawater such as constituents, purity, temperature, algae production, etc.
Toyama Prefectural Fisheries Research Institute, Toyama Institute of Health, Private Sector
Application to
health
promotion fields
Research into the health promoting effects of deep seawater baths and efficient methods of usage with the cooperation of monitors.
Toyama Institute of Health, National University Corporation Toyama Medical and Pharamaceutical University, Namerikawa City
Development of health drinks using deep seawater as a base ingredient
Toyama Food Research Institute, Private Sector
Research into the positive effects of deep seawater on the human body.
Toyama Prefectural Livestock Research Institute
Application to
medicines,
agrichemicals,
foods, etc.
Extraction and production of antiallergic substances from algae cultured in deep seawater for use in pharmaceuticals, agrichemicals, foods, etc.
Toyama Prefectural Institute for Pharmaceutical Research, Toyama Prefectural Fisheries Research Institute, Toyama Food Research Institute
Extraction and production of new anticancer agents from microorganisms isolated from deep seawater for use in pharmaceuticals, agrichemicals, etc.
Toyama Prefectural Fisheries Research Institute, Toyama Biotechnology Center, Toyama Prefectural Institute for Pharmaceutical Research
Development of breads, pickled foods, etc.
Toyama Food Research Institute, Toyama Biotechnology Center, Private Sector
Application to
sterilization
and freshness
preservation
Applicable research of the sterility, purity, plant cultivation liquid solution, freshness preservation of agricultural products, etc. of electrolytic deep seawater
Toyama Biotechnology Center, Private Sector
Research into the manufacturing of brackish ice for use in maintaining the freshness of fish
Toyama Food Research Institute, Toyama Industrial Technology Center
Application to
agricultural
fields
Deep seawater use in agricultural fields.
Toyama Agricultural Research Center, Toyama Forestry and Forest Products Research Center